Craig A.B. Ferris, QC
Partner
P: 604.631.9197

F: 604.641.2818
Patti Lewis / Rosanna Cairns
Legal Assistant
P: 604.631.9289
Practices
Industries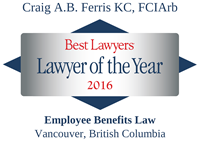 > Lawyers
>

Ferris, QC, Craig A.B.
Craig is a litigator and acts for clients in commercial and business disputes. His particular areas of specialization include shareholder remedies, trust, pension and fiduciary disputes, securities and transactional litigation, product liability, mining disputes and real estate litigation. Craig has appeared in all levels of court in British Columbia as well as the Supreme Court of Canada. He has also acted in private arbitrations and in administrative settings including before the British Columbia Securities Commission. Craig has particular expertise in class actions and acted as lead counsel in several successful defences of major class proceedings.
Craig is a regular contributor to Lawson Lundell's Western Canada Business Litigation Blog, a resource that examines current trends and interesting issues emerging in the legal and business communities.
Recognition and Ranking
Best Lawyers in Canada: recognized for Class Action Litigation, Corporate and Commercial Litigation and Employee Benefits law
Canadian Legal Lexpert Directory 2017: repeatedly recommended as a Leading Practitioner for Litigation - Corporate Commercial
Chambers Canada 2017: recognized in the Dispute Resolution (British Columbia) category
Legal 500 Canada: recommended in the 2016 editorial for Dispute resolution
Best Lawyers: Employee Benefits Law Lawyer of the Year in Vancouver for 2016
Benchmark Canada: The Guide to Canada's Leading Litigation Firms and Attorneys 2016: recognized as a Litigation Star for General Commercial, Environmental, Class Action, Insurance, Product Liability and Securities litigation in British Columbia
Chambers Global 2015: recognized in the Dispute Resolution (British Columbia) category
Martindale-Hubbell International Law Directory: AV Peer Review rated
Professional Activities
Litigation Counsel of America, Fellow
Law Society of BC, Bencher
Canadian Defence Lawyers Association, Member
Vancouver Board of Trade, Member
Western Canada Business Litigation Blog, Contributor
Canadian Bar Association, Member
The Advocates' Society, Member
Discipline Committee, Law Society of British Columbia, Non-Bencher Member (2010-12)
Community Activities
Bard on the Beach Society, Director
Capital Campaign Committee, Bard on the Beach Society, Member (2010-11)
Capital Campaign Committee, West First Theatre Centre, Member (2014 – ongoing)
Bar Admissions
British Columbia (1991)
Queen's Counsel, British Columbia (2014)
Education
University of British Columbia (B.A., 1986)
University of British Columbia (LL.B., 1989)
Personal Interests
Craig is married with three children. He is an active runner and has completed 14 marathons including Boston and New York.
Representative experience includes:
Successfully defeated an application for certification of a proposed consumer class action relating to claims of unjust enrichment, unconscionability, criminal interest and deceptive practices with respect to violation notices issued for parking vehicles in private parking lots without a valid prepaid parking ticket (Webster et al v. Robbins Parking Service Ltd. and Imperial Parking Canada Corporation, 2016 BCSC 1863)
Successfully established crown immunity from the application of the GST for pooled investment portfolios used to fund certain public section pension plans (British Columbia Investment Management Corporation v. Canada (Attorney General) 2016 BCSC 1803)
Substantially successful in an appeal from the certification of a class proceeding resulting in the dismissal of 2 of the 3 causes of action alleged against our client. The class action relates to a long term disability plan available to disabled union members whose benefits were reduced due to a deficit in the fund utilized by Trustees to provide the benefits (Watt et al v. Health Sciences Association, 2016 BCCA 325)
Successfully represented the British Columbia Investment Management Corporation, at both the trial and the appellate levels, in a jurisdictional challenge in relation to its claim for crown immunity from the application of the Excise Tax Act (Canada). (bcIMC v. Canada, 2014 BCSC 1296; bcIMC v. Canada, 2015 BCCA 373).
Successfully represented an equity lender in the enforcement of a complex multi-property, multi-borrower mortgage enforcement proceeding and defeated a related counterclaim. The action raised issues of unconscionability, fiduciary duty, abuse of a Power of Attorney and various statutory claims. (Canmerica Mortgage Corporation v. Yu, 2015 BCSC 773)
Represented the Canadian Bar Association as an intervener in the Supreme Court of Canada in a successful constitutional challenge to the application of money laundering laws to lawyers in Canada. The decision supported the protection of solicitor client privilege as a constitutional principle and established the lawyers' duty of commitment to his or her client as a principle of fundamental justice in Canada. (Canada (Attorney General) v. Federation of Law Societies of Canada, 2015 SCC 7).
Successfully represented the British Columbia Pension Corporation in a dispute alleging the wrongful payment of a survivor's pension benefit. (Fricker v. British Columbia Pension Corporation et al, 2014 BCSC 1729).
Successfully defended at trial and on appeal a complex commercial claim involving breach of fiduciary duty and professional negligence in the context of a real estate acquisition and proposed development in British Columbia. The claim involved allegations relating to the both the solicitation of the investment, and the operation of the limited partnership which acquired the real estate. (Voegtlin v. Paprotka, 2013 BCSC 1613, 2014 BCCA 323).
Successfully represented a real estate developer in an action brought pursuant to the Real Estate Development Marketing Act (British Columbia) asserting rescission of a pre-construction contract of purchase and sale of a residential condominium due to alleged misrepresentations (Chaisson v. Avra Development Corp. 2014 BCSC 925).
In 2013/14, successfully represented an international mining client in a private arbitration concerning an option agreement related to an exploration property located in Africa.
Successfully challenged and overturned the election of directors and the passing of all resolutions at an annual general meeting of a publicly traded company and obtained an order for a new meeting. In doing so, Craig had a proxy solicitation system provided by a major Canadian proxy solicitation service found to be oppressive to the company's shareholders (International Energy and Mineral Resources (Hong Kong) Company Limited v. Mosquito Consolidated Gold Mines Limited, 2012 BCSC 1191).
In 2012, successfully represented a bio-energy producer in a private arbitration and obtained an award relating to the value of bio-fuel from a specific supplier.
Argued a leading decision on the question of the waiver of privilege over client communications in the context of a law firm's defence of a claim by a non-client (Voegtlin v. Paprotka, 2012 BCSC 728).
British Columbia Court of Appeal substantially adopted our position with respect to the commencement of a limitation period in an intended class proceeding arising in the pension context. (Weldon v. Agrium Inc., 2012 BCCA 53)
Successfully obtained an order for special costs against the Defendant due to his conduct. Resolved the costs award for a 90% indemnity of the total actual legal fees incurred throughout the proceeding (Hoffman v. Percheson, 2011 BCSC 1175)
Successfully defended a mortgage lender accused of fraudulently failing to account for mortgage payments alleged to be part of a scheme to avoid taxation. Extensive reasons were given dismissing the allegations on the basis of the borrower's and his agent's lack of credibility. (Hoffman v. Percheson, 2011 BCSC 770)
Successfully obtained a mutli-million dollar judgment in relation to a complex limited partnership/debt dispute on a summary trial application (Tocchio v. Graoch Associated Limited Partnership (BCSC Action No. S110326), April 6, 2011)
Obtained an order disqualifying counsel for the opposing party based on a conflict of interest (Roeder v. Chamberlain and Davies & Company, 2010 BCSC 920)
Successfully obtained a judgment ordering that two legal proceedings commenced in British Columbia against Alberta lawyers be transferred to the Alberta Court of Queen's Bench (Broman v. Machida Mack Shewchuk Meagher LLP, 2010 BCSC 760)
Successfully obtained summary dismissal of a claim of breach of duty and negligence against a Pension Administrator (Estate of Martens v. Martens and BC Pension Corporation, 2009 BCSC 1477, 2010 BCCA 326)
Successfully defeated an application to stay a British Columbia Supreme Court proceeding in favour of arbitration under the Rules of the Arbitration Institute of the Stockholm Chamber of Commerce (H & H Marine Engine Service Ltd. v. Volvo Penta of the Americas, Inc., 2009 BCSC 1389)
In 2008, successfully represented an international mining client in a private arbitration and obtained an award with respect to the proper interpretation of the contractual formula for the calculation of a royalty payment
Successfully obtained an appraisal remedy for the same price as the underlying take-over bid (Ashton Mining of Canada Inc. v. Vesuna et al., 2007 BCSC 1374, 2008 BCCA 248)
Succeeded in proving fraud against a claimant of disability benefits from a benefit trust (The Trustees of the IWA- Forestry Industry Ltd. Plan v. Bhullar, 2008 BCSC 168)
Overturned on appeal certification of a major pension class proceeding and obtained a stay of that proceeding in favour of arbitration (Ruddell v. BC Rail Ltd. 2007 BCCA 269)
Successfully defended a Petition challenging the approval of a second step business combination under OSC Policy 61-501 and alleging oppression (Bingham v. Ashton Mining of Canada Inc., 2007 BCSC 281)
Successfully overturned on appeal certification of a major pension class proceeding (Williams v. College Pension Board, 2007 BCCA 19)
Successfully defended a shareholder's right plan before the British Columbia Securities Commission (Re. Imperial Metals Corporation, CAT-Gold Corporation and bcMetals Corporation, November 10, 2006)
Successfully obtained pre-certification dismissal of a major class proceeding which sought remedies based on trust, competition law and statutory authorization law issues (The Consumers Association of Canada v. Coca Cola Bottling Company et al 2007 BCCA 356; 2006 BCSC 1233)
Successfully represented the Trustees of the IWA – Forest Industry LTD Plan and obtained an early summary dismissal of a claim against them for breach of fiduciary duty relating to their adjudication of disability claims; (Atco Lumber v. Leech, 2006 BCSC 524 and Atco Lumber Ltd. v. Leech, 2007 BCCA 238)
Successfully represented the plaintiff in a leading decision on the jurisdiction of the Supreme Court of British Columbia over foreign defendants (Xytus v. Century Mining Corporation, 2005 BCSC 741)
Successfully represented a major forest product company in a private arbitration brought under the Timber Harvesting Contract and Subcontract Regulation (British Columbia) during 2005
A class action involving complex pension issues in which the court largely adopted our position on certification issues (Gregg v. Freightliner 2003 BCSC 241)
Successfully obtained a declaration of insurance coverage for our client (EFP Holdings Ltd. v. the Boiler Inspection and Insurance Company of Canada 2001 BCSC 1580; 2002 BCCA 637)
The leading British Columbia case on contested corporate arrangements. We successfully obtained court approval on behalf of our client; and (Re Pacifica Papers Inc. 2001 BCSC 1069; 2001 BCCA 486)
Successfully quashed a multi-million dollar logging tax assessment and successfully defended the decision before the British Columbia Court of Appeal (Slocan Forest Products Ltd. et al v. HMTQBC et al (1999) 99 DTC 5836; 2000 BCCA 520)
Class Proceedings
Representative matters acting as defence counsel includes the following class proceedings:
Representing a major industrial client in relation to a claim arising from the conversion of its pension plan from a defined benefit to a defined contribution plan.
Represented an industry organization in a proposed class proceeding arising from its involvement in a government sponsored management agreement of certain natural resources and the legality of fees charged under the management system.
Defended the appeal from the dismissal of an intended class proceeding relating to allegations of charging improper fees, unauthorized use of funds and breach of The Trade Practices Act
Defended a society against allegations of improper receipt and use of monies received
Defended two national trust companies in a class proceeding relating to claims of breach of fiduciary duty
(August 22, 2017)

2017 Chambers Global Practice Guides,

Co-Author

(August 10, 2016)

SNL Financial

(February 19, 2016),

Interview

(January 2016)

(December 15, 2015),

Interview

Financier Worldwide Magazine,

October 2015

(October 2015),

Interview

(August 24, 2015)

Globe and Mail

(February 13, 2015),

Quoted

(December 10, 2014),

Interview

National Post

(November 26, 2014),

Interview

(August 19, 2014)

Business in Vancouver

(March 17, 2014),

Co-author

(January 10, 2014)

(November 4, 2013),

Author

(May 23, 2013),

Co-author

(June 1, 2012),

Author

(April 12, 2012)

(December 27, 2011)

(December 15, 2010)

(November 15, 2010),

Interview

(October 1, 2010)

(April 17, 2009)

3rd Pension Law & Litigation Course, Federated Press Course, April 20 & 21, 2009, Co-lecturer

(March 12, 2009)

(November 17, 2008)

(June 19, 2008)

(February 20, 2008)

"Bingham v. Ashton Mining of Canada Inc. – Sepp's Gourmet Revisited",

Corporate Litigation,

Vol. VIII, No. 3 p. 486

(2007)

"Ruddell v. BC Rail Ltd. – Case Comment",

Class Action Quarterly,

Vol. 2 No. 2

(December 2007)

(September 21, 2007)

(July 30, 2007)

"Pension Dispute Arbitration prevails over Class Proceeding in Ruddell",

The Lawyers Weekly, p. 12

(July 20, 2007),

Co-Author with Murray Campbell

"British Columbia Overturns Class Action Certification",

Pension Planning,

ol. XIII, No. 4

(2007),

Co-authored with Marko Vesely

(May 18, 2007)

(February 21, 2007)

"BC decisions indicates clear preference for class action legislation over ADR",

The Lawyers Weekly

(March 24, 2006)

(March 12, 2006)

"Novel claims are becoming more precedent in pension class actions",

The Lawyers Weekly

(March 25, 2005)

(November 10, 2004)

(November 1, 2003)

"Defending Against the Worker's Compensation Board",

Int. I.L.R. 208

(1998),

Co-Author with Thomas Fox
"Direct and Cross Examination/Adverse and Hostile Witnesses,"CLEBC Live Course Seminar: Introducing Evidence at Trial 2017, Vancouver, BC, (March 30, 2017), Course Presenter

BC Risk & Insurance Management Association,

A panel of risk experts led a discussion on responding to a catastrophe. The seminar focused on legal, claims adjusting and insurance solutions.

(February 15, 2017),

Speaker

"Civil Trial Advocacy College Vancouver",

The Advocates' Society

(November 5, 2015),

Faculty

"Evidence that Wins," Vancouver Bench & Bar Series,

The Advocates' Society

(April 15, 2015),

Faculty

27th Essential Skills for Pension Committee Members,

Vancouver

(November 6, 2014),

Speaker

24th Essential Skills for Pension Committee Members,

Vancouver

(November 20, 2013),

Speaker

Vancouver, BC

(May 23, 2013),

Speaker

"Liability and the Trustee", 8th Pension Law & Litigation Course, Federated Press,

Vancouver, BC

(March 5-6, 2013),

Speaker

(January 29, 2013),

Speaker

"Liability and the Fiduciary",

18th Essential Skills for Pension Committee Members, Federated Press, Vancouver, BC

(November 14-15, 2011),

Speaker

"Employer and Employee Rights and Obligations in Disability Claims",

4th Annual Disability Claims and Management Litigation, Insight Information Co., Vancouver, BC

(October 27-28, 2011),

Speaker

"Protecting the organization in the era of increased pension liabilities, shortfalls and litigation",

6th Pension Law & Litigation,

Federated Press, Vancouver, BC

(March 14-15, 2011),

Co-lecturer

"Liability and the Fiduciary",

16th Essential Skills for Pension Committee Members Conference,

Federated Press, Vancouver, BC

(November 8-9, 2010),

Co-Lecturer

"Proactively Protecting Your Plan",,

Pension Basics - Beyond the Basics Continuing Education Series,

Canadian Pension and Benefits Institute, Burnaby, BC

(January 20, 2010),

Speaker

"Liability and the Trustee",

14th Essential Skills for Pension Committee Members Conference,,

Federated Press, Vancouver, BC

(November 4 - 6, 2009),

Speaker

"Protecting the organization in an era of increased pension liabilities, shortfalls and litigation",

3rd Pension Law & Litigation,

Federated Press, Vancouver, BC

(April 20 & 21, 2009)

"Liability and the Trustee",

11th Annual Essential Skills for Pension Committee Members, Federated Press, Vancouver, BC

(November 24, 2008),

Speaker

"Pollution Exclusion Clauses: An Analysis of the Canadian Jurisprudence",

The Canadian Institute

(June 17-18, 2008),

Speaker

"Pension and Employee Benefit Class Actions – The Defence Perspective",

The Canadian Institute Pension Law and Litigation

(January 30-31, 2008),

Speaker

"Mergers and Acquisitions – Recent Litigation Trends", Corporate Governance Course,

Continuing Legal Education Society of British Columbia

(November 2007),

Speaker

"Current Trends in Pension and Benefit Class Actions",

Continuing Legal Education Society of British Columbia

(April 6, 2006),

Speaker

"Pension Class Actions",

Canadian Pension and Benefit Institute

(October 9, 2003),

with Ward Branch, Speaker